IAQ Knowledge-to-Action Professional Training Webinar Series Using Data to Drive Buy-In and Funding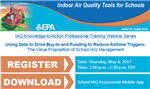 IAQ Knowledge-to-Action Professional Training Webinar Series
Using Data to Drive Buy-In and Funding to Reduce Asthma Triggers: The Value Proposition of School IAQ Management

Harness the power of evaluation to develop a business case, a value proposition and a communication strategy that generate broader acceptance of, compliance with, and funding for IAQ management, with a specific focus on reducing asthma triggers.Webinar participants will learn how to—
Design and successfully implement a strategy to identify, collect and use data with low-cost, easy-to-use tools (e.g., the School IAQ Assessment Mobile App) to start, improve or sustain a comprehensive IAQ and asthma management program.
Employ evidence-based strategies and proven practices that are being used in school-based health centers across the country to reduce exposure to environmental asthma triggers.
Replicate the strategies used by a school district that successfully reduced asthma attacks, increased attendance and improved academic performance through effective implementation of the "Communicate" and "Evaluate" Key Drivers of EPA's Framework for Effective School IAQ Management.
What Is the IAQ Knowledge-to-Action Professional Training Webinar Series?
The IAQ Knowledge-to-Action Professional Training Webinar Series comprises four 1-hour technical, core-competency, Web-based trainings that demonstrate how the knowledge gained in the IAQ Master Class Professional Training Webinar Series can be translated into actions that improve or sustain an IAQ management program within your school or school district.